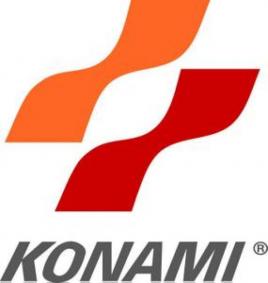 Konami (コナミ株式会社, Konami Kabushiki-gaisha) is a company that created famous video game series, such as Rocket Knight, Castlevania, Contra, Gradius, Metal Gear and Silent Hill, among many others.
History
The company was founded in 1969 as a jukebox rental and repair business in Osaka, Japan, by Kagemasa Kōzuki, the still-current chairman and president. The name "Konami" is a conjunction of the names Kagemasa Kozuki (current chairman and president), Yoshinobu Nakama, Tatsuo Miyasako .Konami is currently headquartered in Tokyo and additionally operates health and physical fitness clubs in Japan. Konami also operates United States activities in El Segundo, California for video games and Paradise Nevada for the casino gaming industry. The location in Paradise Nevada is located across the street from one of the runways at McCarran International Airport. Its Australian gaming operations are located in Sydney, Australia, and distribution of Konami's games in Australia is handled by Mindscape Australia.Distribution of KOE's games in Australia was to be taken over by Red Ant Enterprises in February 2009, but Jason Hill from The Age and ASIC, a government body, announced that the company went into External Receivership and Administration, which then led KOE to re-sign with Atari Australia, now Namco Bandai Partners On January 5, 2010, Kunio Neo, President of Konami of Europe announced Mindscape Australia would be Australia's local distributor after a failed distributor change made Konami change back to Namco Bandai Partners, then Atari Australia.
Konami is also known for its password, the Konami Code, which traditionally gives many power-ups in its games. Although variants also exist, as in the Rocket Knight series and button naming can differ depending on the controller used, the classic NES combination is: ↑, ↑, ↓, ↓, ←, →, ←, →, B, A. However, use of this code in more recent Konami productions has been sparse.
See also
External links
Community content is available under
CC-BY-SA
unless otherwise noted.